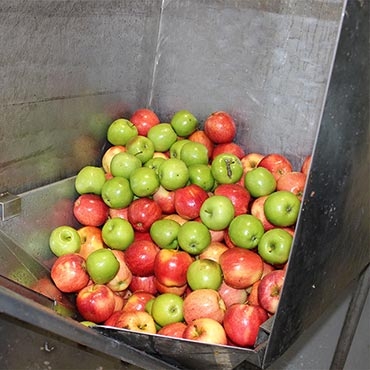 The Apples and Cherries Don't Process Far from the Trees. Bring your children and students out to Kimmel Orchard to experience a working orchard firsthand. Processed and pitted fresh from the fields—even picked by your group, if you so choose—it's the perfect way to instill an appreciation for the nutritious foods most only find in the produce aisle.
Apple Processing
Come September, Kimmel Orchard is brimming over with apples—more than 30,000 bushels are harvested each year. That's about 276,000 apples!
Apples arrive from the field in 20 bushel bins that are stored in a cooler until sorting. A forklift transfers apples to a vintage 1964 sorting conveyor.
Apples come in all sizes, starting with lunchbox, an apple that is less than two inches in diameter. Lunchbox apples fall through the sorter and are used for cider production. The remaining apples are washed and placed into cups that further sort the apples according to weight and size. After sizing, they are hand-inspected and graded. The best apples are packaged for retail sale, and some are destined to become caramel apples.
Grade 2 and 3 apples are just as delicious as Grade 1 and are used for yummy Kimmel pies or refreshing cider.
Cider Processing
It took a lot of muscle to make cider in the early days because the process was completely manual. Today, our state-of-the-art press delivers fresh, UV-treated cider hours after the fruit is picked from the tree.
After the apples are washed, they go through a grinder which makes a sort of applesauce that is then pressed to extract all the juices. The product that remains after pressing (pumice) is recycled. Once the juice is filtered and purified, it is bottled, capped, labeled, and all that juicy goodness is placed in coolers or freezers.
Tart Cherry Processing
How do you get those little pits out of ruby ripe cherries? It takes highly specialized equipment to pluck the pit and not damage the delicate flesh of the cherry.
Visitors at the Orchard in mid-June are invited to pick their own cherries. And, you don't have to worry about pitting them. The Orchard will do it for you!
After washing, the cherries go for a roller coaster ride where they are sized in a rotating drum. When the drum reaches the top, steel spikes push through the cherry to remove the pit while retaining the lush round cherry. The cherries are bagged and returned to the visitors who picked them or become Kimmel Orchard's famous cherry wine or pies.
Pits are collected, dried, and used as burning pellets in a corn stove.